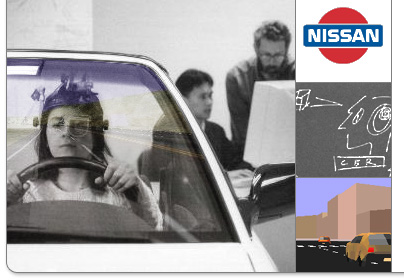 Nissan Research & Development
Cambridge Basic Research
Cambridge, MA — June 1995-June 1996

This laboratory, open from 1993 to 2001, was devoted to understanding "the driving experience" through experiments in cognition, vision, and motor control. By using half of a Nissan 240SX, a SGI-powered simulator, and biometric tracking equipment, we explored the interactions between people, their vehicles, and their environment. My research at the lab was primarily concerned with predictions of drivers' actions based on their galvanic skin response. To study this, I augmented the graphic routines of the SGI/OpenGL based driving simulator, and performed extensive experiments and data analysis using MATLAB and custom-written C routines.